Book Recommendations
6 Sweet Picture Books to Celebrate Summer
Oh to be a kid, now that summer's here. It's all park days and melting popsicles and playing outdoors with friends. These summer books capture the pure joy of being a kid during the warmer months. You'll love sharing these sweet summer stories with your kiddos, while getting nostalgic for your own childhood summers.
1) Jabari Jumps by Gaia Cornwall
This sweet story about a little boy who is nervous about going off the diving board is something all kids can relate to. At first, Jabari is excited to go off the diving board, but as he gets closer to the front of the line, he decides to let other kids go ahead because he's feeling nervous. When he finally dives in, he's rewarded with an incredible feeling of accomplishment. The simple, gorgeous illustrations paint a vivid picture of a summer day at a local outdoor pool that will make you want to jump right in. Pick this one up if your child is nervous about swimming and needs a confidence boost.
2) A Lullaby of Summer Things by Natalie Ziarnik
This relaxing, quietly rhyming story about going to bed while remembering a fun family day at the beach captures a happy, carefree childhood with its vivid language and gentle rhymes. This makes a great bedtime book or a good option whenever you want to create a calming atmosphere (which with young kids, is always).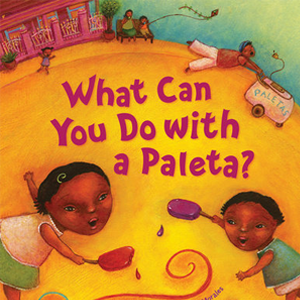 3) What Can You Do with a Paleta? by Carmen Tafolla
On hot summer days, nothing is more welcome than a frozen treat. This tribute to paletas, a traditional Mexican popsicle made with lots of fresh fruit, paints a picture of a hot summer day, with flowers in bloom, music playing, the smell of crispy tacos and the sound of a paleta truck ringing its bell. Get ready to field some kid requests for paletas when you bring this one out.
4) Fiesta Babies by Carmen Tafolla
Babies and toddlers need summer books too – though older kids will love this poetic picture book too. Each colourful page showcases beautiful illustrations of Fiesta Babies embracing their vibrant culture and learning the customs of their heritage. This is both super sweet and educational. Kids who don't speak Spanish can guess the Spanish words that are woven into the text and check their guesses in the glossary at the back.
5) Summer Days and Nights by Wong Herbert Yee
This rhyming book with simple illustrations is basically a love poem to summer from Wong Herbert Lee. And we are here for it. We follow a little girl and her butterfly net as she greets a new summer day and heads out on an ambling summer journey, involving splash pools, bumblebees, picnic dinners and plenty of time outdoors.
6) Justice Pon Di Road by Aliona L. Gibson
Let this gorgeous book take you on an island journey with its bright illustrations and beautiful words. A toddler and his mother go on a morning walk and experience the sights, sounds, tastes and kindness of Jamaica along the way. This book provides the perfect chance for kids to celebrate all the amazing parts of Jamaican culture. You can also help answer your kiddos' questions with the glossary of patois words, facts about Jamaica and a map of the island in the back of the book.
To find free literacy programs and activities for you and your family, click here.