Parenting Tips
5 ways little kids can make a big difference in their communities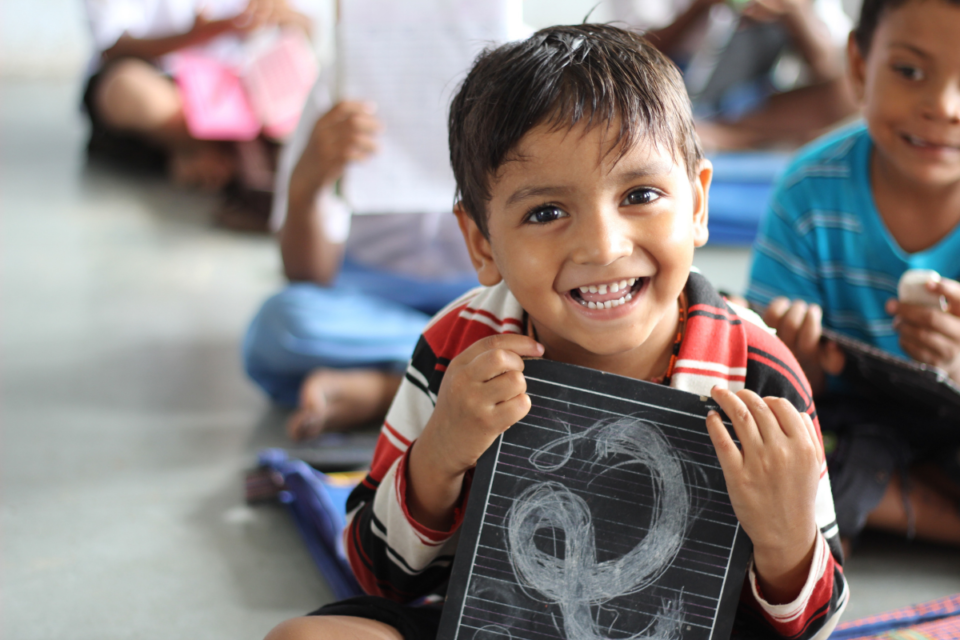 Want to raise kind kids, who feel proud of their contribution to their communities and the world? The best way to make a difference is with everyday actions. Here are five ways for kids to give back every day (that are manageable for busy families).
"When you teach compassion at young ages, it sets kids up for a lifetime of living generously," says Sarah Aadland, Director of Doing Good Together's Big-Hearted Families Program. "Kids who volunteer with their families when they are young are twice as likely to serve as adults," says Aadland. "It's an exciting thing to kickstart and it's also just plain fun for families to do. It's something different from the usual preschool games. And kids love it."

So how can you get started? Try these activities together.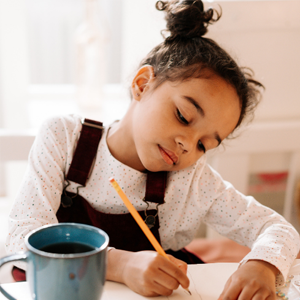 1) Create art + make cards
"The first step for every family is just creating art," says Aadland. "We encourage people to stay local and make cards for seniors in their community or someone who is feeling ill," says Aadland. "When you deliver handmade cards, kids can watch people's faces light up when they share them and that sparks all those feel-good hormones that make you want to do it again. Every little act of service will spark the next one."
2) "Adopt" your local food pantry
"If you want to talk to young kids about poverty, and the fact that in every community there are people struggling and we can do something to help, adopt your local food pantry," says Aadland.
What exactly does it mean to "adopt" a food bank? It's not as complicated as it sounds. "Just set up a box or a bag in your kitchen, let the kids decorate it and every time you go to the grocery store or place an online order for groceries, let kids pick an item or two extra to put in their bin," says Aadland. "Kids can also make a card to go with that too (to thank the local pantry for the work they do) and drop that off once a month, so it's an ongoing conversation."
The ongoing conversation is key, but it doesn't have to be complicated. Aadland says simple conversation prompts are all it takes to keep service at top of mind, like "What snack would you like to share with kids that don't have as much right now?"
"It really does get them, on an ongoing basis, to think that poverty and hunger aren't just something that happens 'over there' and affects somebody else," says Aadland. They learn that "everybody goes through hard times, and a strong community comes together and helps people going through hard times."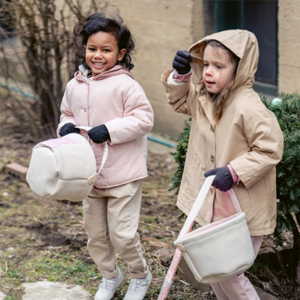 3) Do regular cleanups at your local park
"Bring the whole idea of 'leave no trace' to every park visit," says Aadland. "It's as simple as putting a sturdy pair of gardening gloves and a garbage bag in your stroller or backpack. So then every time you go to the park and your kids spot something you can clean it up."
This really helps towards fostering a charitable mindset in your kids. "It's a simple way to teach them very young that the space around you, the need around you, is something you can take action on," says Aadland. Group cleanups are valuable too. "Volunteer with your local park cleanup as well, so your kids can see the whole community getting involved to make a difference and tap into that community of changemakers," says Aadland.
4) Read about important topics
To keep the theme of living generously alive in your household, make sure it's a frequent topic of conversation. One way to do that: read about it. "No matter how you do it, these volunteer things are going to be once in a while," says Aadland. "In between, you need to foster these routines and habits that are compassion-building. It can't stop with a project because it doesn't sink in. The project is the starting point for a conversation, especially if you pair it with books."
Books can be windows into someone else's world, and give kids some context for topics that they may or may not encounter in day-to-day life. For example, on the topic of poverty and hunger, Aadland recommends reading the book Maddie's Fridge and following it up with a conversation about a real life scenario.
Then when something happens in your child's life, they will hopefully spring into action. "If so-and-so didn't have a snack at school today, then your kid's going to say 'let's donate a box of snacks to the principal's office, so she always has something to eat,'" says Aadland. "It grows and it builds, and as they grow you never stop being curious together."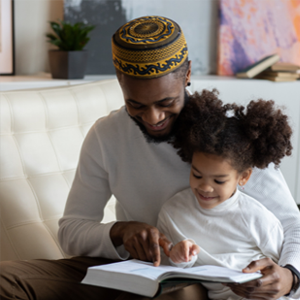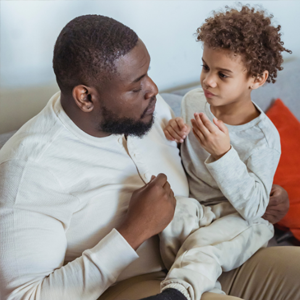 5) Don't avoid difficult conversations
"Let your children know you're willing to learn together with them and be honest," says Aadland. "When they're little, if they know they can come to you with hard questions, when they're older the payoff is huge, because they'll continue to come to you with hard questions, knowing you'll give them the honest and challenging truth or help wonder about it together."
Wonder together about the little questions, the big questions and the hard questions. Saying something as simple as, "I wonder what it's like to be hungry," can kickstart a lifetime of compassionate thinking. "Those questions may seem simple," says Aadland. "But it sits with them as they grow. That's where compassion gets built."
To find free literacy programs and activities for you and your family, click here.