Book Recommendations
5 important books to teach your kids about Martin Luther King Jr.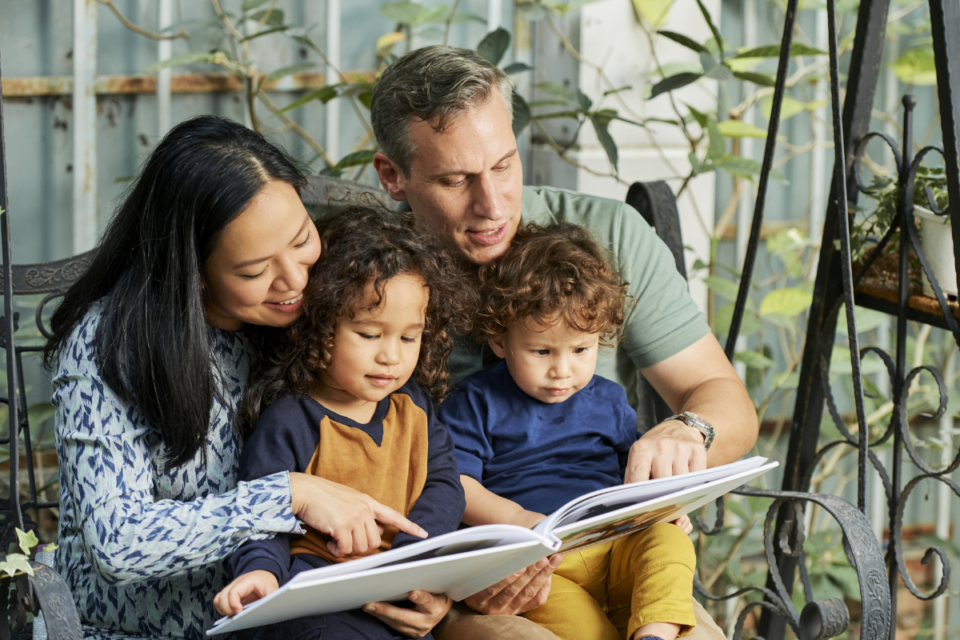 We all want our kids to learn about important moments throughout history. And when it comes to teaching them about the civil rights movement, Reverend Martin Luther King Jr. is the first name that comes to mind—for good reason. MLK's peaceful and loving approach to activism inspired a movement that would change everything. These books will help kids understand more about him, his life and how he fought for what was right—without ever being violent.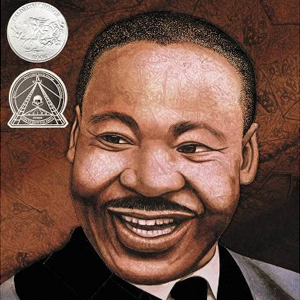 1) Martin's Big Words by Doreen Rappaport
In this story, we learn how the words MLK shared throughout his lifetime still make an impact today. With quotes from his famous speech, along with words that impacted him throughout his life—from his parents, the Bible and others—we see the power of language. We also learn how MLK developed his ideologies of love over hate, and words over violence.
2) We March by Shane W. Evans
With simple shorthand verse, and a subtle introduction to marching and protesting, this is a story for younger readers about praying for strength, working together and coming together to fight for equality. The illustrations tell most of the story, and kids will enjoy asking what each of the protest signs say. This allows parents to dive into as little (or as much) information as they want. The last illustration is of Dr. King, giving his famous "I Have a Dream" speech. At the end of the book, a more detailed description of the 1963 March on Washington (where MLK gave his speech) is included.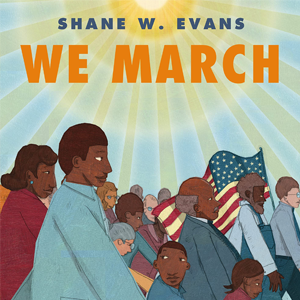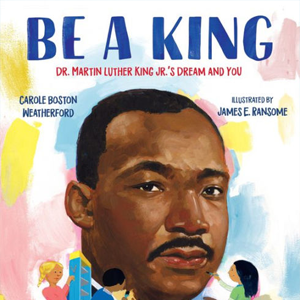 3) Be a King: Dr. Martin Luther King Jr.'s Dream and You by Carole Boston-Weatherford
This empowering story starts each page by encouraging young readers to take action with the words "You can be a King." The book shares what MLK stood for—peace, equality, love—while also showing how these things aren't limited to MLK. They are what each person should strive for in their daily life. Whether that's through stamping out hate, standing up for equality or doing your best at whatever you do (like standing up to bullies). The illustrations are so lovely, detailed and realistic, which helps kids make the connection to their own lives (and makes them feel like it is possible to "be a King". "You can be a King. Have a dream. Make yours great enough to grow into."
4) My Daddy, Dr. Martin Luther King, Jr. by Martin Luther King III
If you only read one book from this list, let it be this one. This beautiful story gives insight into Martin Luther King Jr. the person, not just the leader. His son, Martin Luther King III, who wrote this story, was just five when his father gave his famous speech at the March on Washington, where he said "I have a dream that my four little children will live in a nation where they will not be judged by the colour of their skin, but by the content of their character." He talks a lot about how his father's peaceful approach carried into their home life as well. He remembers his dad—playing with him, teasing him and teaching him. He recalls his dad being thrown in jail again and again—and the conversations he had with his mother about why. He remembers never feeling afraid when he was with him (a sentiment that was surely shared with all those who loved him).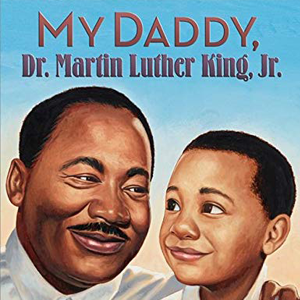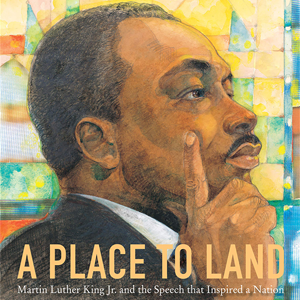 5) A Place to Land by Barry Wittenstein
This detailed story is about the most famous speech of the civil rights movement at the 1963 March on Washington: Reverend Martin Luther King Jr.'s "I have a dream" speech. The book talks about this defining time in history, the moments (including mere hours) leading up to MLK's speech and how some of it was written, re-written and refined. Many of the words came straight from MLK's heart and inspiration from the crowd—but the hardest part was figuring out where to end (land) the speech.
To find free literacy programs and activities for you and your family, click here.